.
The mobile and easy-to-use treatment system has been used
for years successfully day-to-day by over
600 high-level athletes
Experience with VitaSoniK® SPORT the effective pain treatment through supported measures. The simple and mobile VitaSoniK® SPORT treatment speeds up the regeneration of musculature, tissue and skin before and
after sport. The performance by high physical demand can be specifically increased.
Deutsch Englisch
Video VitaSoniK® SPORT - technology and usage
The VitaSoniK® SPORT treatment method enables the athlete user a wide range of possible
ways of treatment due to the flexible and effective field of applications.





Example:
An individual with medical supervision coordinated therapy supported VitaSoniK® treatment. This can be carried out at any time during indoor- and outdoor activities (before and after sport) several times over the day. The VitaSoniK® SPORT treatment system is easy and safe to use.



Before sport
For increase of physical performance Zur Steigerung der k├Ârperlichen Leistungsf├Ąhigkeit.
For loosening up stressed muscles
For improving of blood circulation and oxygen flow.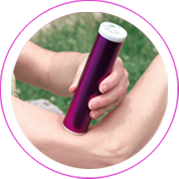 After sport
For treatment by exhausted and tired muscles, tensions and sports related pain ( bones, joints, tendons and much more ). Because of a VitaSoniK® SPORT treatment after sport muscles and tensions are loosened, tissue deposits ( i.e. protein deposits ) are quick and specific targeted to be dissolved and built up again.
VitaSoniK® SPORT treatment success


Visible success of treatment by haematomes
Doping?
Because of the VitaSoniK® SPORT technology is doping not necessary anymore. Due to the 1 million produced vibrations / second is the deep tissue ( i.e. musculature ) loosened up in the treatment area. Due to the molecules rubbing against each other (the human consists of 100% of molecules) at the same time heat is produced, the lymphatic flow, blood circulation and oxygen flow are significantly stimulated and improved. Sclerosis ( due to acid deposits ) are quicker and more effective dissolved and removed out over the lymphatic system.

We remind and point out to you that products containing ingredients included in the red doping list are not to be used! Due to the effect of the sonophoresis active substances are transported into the deeper tissue layers through epidermis. This could lead to a positive doping test result.