More than 500 specialists and clinics already trust the innovative and mobile Therapy-System


VitaSoniK® MED is the new effective treatment method for therapy supportive measurements and an addition for existing health-care treatments.
Thanks to the worldwide unique VitaSoniK® MED technology, the self regulating sound intensity of the skin, can the cable-free, transportable and handy VitaSoniK® MED System speed up and intensify much more effective the natural process of the regeneration of fascia and vitalisation of skin, tissue, musculature

From possible instant effect to lasting effect by pain and injuries the body's self healing process is activated and stimulated. There are visible and noticable treatment results achieved.
Advantages VitaSoniK® MED
can be integrated in every therapeutical treatment concept

transportable and mobile use

battery driven - 2 hours battery life in continuous operation

handy and only 150g lightweight
daily treatments in practices, institutes, clinics, nursing- and rest homes, i. a.
treatments outside practices


i.a.

:
a. sportclubs (directly at playing-fields)
b. companies (in offices)
c. house visits directly at the patients
Applications VitaSoniK® MED



for the therapy accompanying treatment by pain and sport injuries
medical beauty and dermatology treatments
by treatments of sticky fascia (tissue)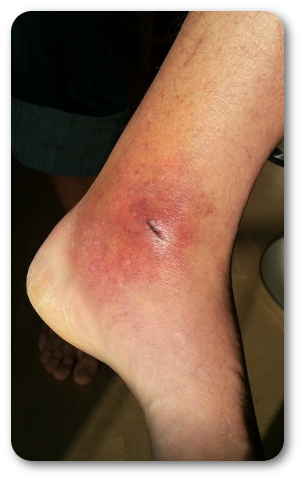 Treatment success of haematoma and incised wound
treatment excample haematoma (riding accident)
treatment excample incised wound (shards of glass)






Successful treatment of Dr. Frondorf
Dear VitaSoniK® Team

please find below the report of a patient, female, 56 years old.
The patient is severely bent over working in the garden.

Diagnosis: midfoot sprains

The foot of the patient looked very bad. During the treatment period it was not protected. The treatment was performed exclusively with the VitaSoniK® system. The healing of the foot is more than amazing. If you do not themselves seen (experienced) had, you would not believe it. The patient was on treatment success and over the course of treatment over excited.

The treatment period was one week.

With best regards
Dr. Frondorf



to the therapy videos
VitaSoniK┬« MED is approved by T├ťV NORD Polska Sp.z o.o. ul. Mickiewicza 29 40-085 Katowice / Polen CE 2274
All VitaSoniK® MED Systems are given a sound examination certifcate.
The manufacturer is entitled to issue the measured sound data.

Fa. Tecilla cosmed UG /

VitaSoniK

®

Production UG achieved a calibration certificate from Physikalisch-Technischer Bundesanstalt (PTB)